Ollin – From the Nahuatl language: To move and act with all your heart.
An expression of immense depth that conveys immediate movement and transformation.  Ollin derives from Yolotl, meaning heart, and Yolistli, meaning Life. It means to follow your path in life wholeheartedly.
Weekly Classes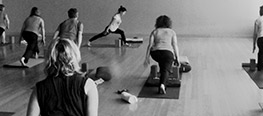 Lilia teaches weekly classes in San Francisco and also travels throughout the Bay Area for workshops and teaching.
Learn More

»
Testimonials
"I've been practicing yoga for a little over ten years, mostly in the Iyengar tradition. Lilia Roman is one of the best teachers I've had. Her classes always focus on integrating the breath with movement. She begins slow, helping me to ground and stay with the breath as we move into more challenging postures. She has a wonderful presence – thoughtful, warm, human. In some of her classes, she incorporates this 'Urban Zen' that I real like – a mix of reiki and aromatherapy that is incredibly relaxing. I always leave her classes feeling better than when I got there."
Read More

»
Philosophy
Doing work of self-reflection, aligning the body, in and out, doing rituals to cleanse, to celebrate and honor our existence, is part of our responsibility as human beings. Caring for the earth, for what we eat, what we listen to, where we spend our time, creating community and connecting to all human beings, regardless of where they come from, is our gateway towards a more illuminated life and the path to a more balanced way of being.
Read More

»
Copyright © Dandelion by Pexeto